The Dean's Scholars Student Association (or DS Council) is an entity of volunteer DSers who plan all of our events, including Friday Lunches, game nights, dinners, weekend trips, and our Distinguished Lecture Series. We focus on preparing our motivated students for successful careers by providing enriching intellectual opportunities and fostering a strong sense of community between members, research faculty, and a vast network of alumni dating back to 1983. Anyone and everyone in DS can join and help out!
Email: deans.scholars.council@gmail.com 
Website: http://deansscholars.org
​​Facebook: http://www.facebook.com/utdeansscholars
Instagram: http://instagram.com/deansscholars
Twitter: https://twitter.com/DSHonors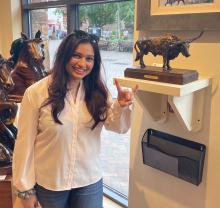 DUAA ANSARI
Hello! I am Duaa Ansari, a fourth-year chemistry major from Sugar Land, TX. My research interests are focused on the intersection of organic and inorganic chemistry. I currently work in the Que Lab where I synthesize and characterize inhibitors for various metalloenzymes! I love to try different cuisines, work on naturesque paintings and drawings, watch movies/shows (especially anything Marvel related), play tennis, and attempt to cook on occasion. I am excited to serve as the 2022-2023 DS Council Chair!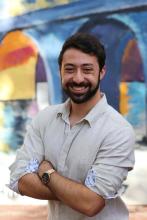 ADAR AMBAR
Hey! I'm Adar Ambar, a third-year chemistry major with a focus in electrochemistry/material chemistry from Calabasas, CA. I'm currently working in Aubrey Lab where I research new components for magnesium-based batteries, including synthesis of new electrolytes and electrode materials. I'm a big fan of cooking, writing music on my guitar, and playing video games. You can probably recognize me from being the loudest person in a room for no good reason.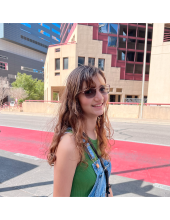 ALIA ARYA 
Hi! My name is Alia and I'm a second-year biology major from Austin. In my free time I love to play the guitar, work on jigsaw puzzles, and binge comedies. After I graduate I plan to go to graduate school so I can pursue a career in genetic research, and currently, I work in the Sarinay Cenik Lab. On council, I've been involved in planning social events such as trips, dinners, and other fun events. Feel free to reach out with any questions!
EMMA BABAIAN
Hey! I'm Emma, a 4th-year Neuroscience major/Science Communication minor from Sugar Land, Texas. I work in the Fenno lab, where we bridge molecular engineering, systems neuroscience, and medicine to find new insights into and treatments for psychiatric diseases. In my free time, I love to crochet, swim, play video games, and cook. Here on council, I'm the chair for the Diversity, Equity, and Inclusion committee, and I'm also involved with council-wide efforts to facilitate mental health support within DS!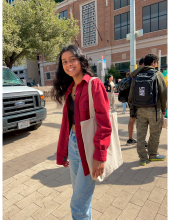 SAHANA DATTA
Hi! I'm Sahana Datta, a 2nd year neuroscience major from San Antonio, Texas. I'm currently working in the Harris lab, where I'm working on 3D visualizing dendrites of hippocampus neurons. In my free time, I love to explore Austin and try new coffee shops, hike, and read. I'm so excited for the next year of DS Council!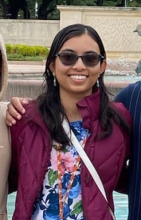 BIDISHA HALDER
Hey! I'm Bidisha, a second-year neuroscience major from the Houston area (specifically Pearland). My research interests lie in sensory systems, and in my free time, I sing with my ukulele, read, and play video games. On council, I've mostly been involved with planning social events. I'm happy to answer any questions or just talk about anything!
STEPHANIE KIM
Hi!  I'm Stephanie Kim, a 3rd-year Biochemistry major from College Station, Texas.  I am also pursuing pre-medical and forensic science certificate track at UT Austin.  I am currently working in Torii lab, where we focus on stomata development of arabidopsis in response to environmental influences.  I am also interested in psychology, philosophy and astronomy, so I am looking forward to taking related courses in following years.  In my free time, I love to explore new restaurants and dessert places and I also cook and bake a lot.  As a council member, I am mostly involved in arranging social events.  Feel free to talk to me if you want any academic advice, or even emotional support!
SUSANNA KIM
Hello! My name is Susanna Kim, and I am a third-year biochemistry major from Austin, Texas (hook 'em)! I am on a pre-dental track and I currently work as a dental assistant in a clinic. I'd love to talk to you if you are finding a dentist or pursuing a pre-dental path! I am also currently in the Supra Sensors FRI lab and a summer fellow for the program. I am researching tannin compositions in seaweed that could be used as an animal feed to decrease the methane production of the ruminants. I have a lot of hobbies: sketching, doing (but being very bad at) card tricks, photography, and solving puzzles. I would describe myself as easygoing and chill, so if you have any questions or random conversations, feel free to talk to me!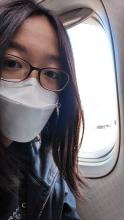 CARRIE LIANG
Hey everyone! I'm Carrie, a second-year mathematics major from Plano, TX. Outside of school, I enjoy going on walks and hikes, playing the piano if I can find one, and watching Chinese TV shows. On DS Council, I've been involved in editing the newsletter, helping prepare various events, and photographing our DSers at those events! I'm always happy to help or point you in the right direction if you need anything! 
SHASHWAT LIMBASIA
Hey everyone! I'm Shashwat, a 3rd-year Neuroscience major from Irving, Texas. I am really interested in anything related to biochemistry, and that has led me to pursuing work in the Taylor lab. I am currently investigating the gene editing mechanism, CRISPR-Cas, by optimizing enzyme kinetics and producing cryo-EM structures. In my free time, I love to swim, watch new Hindi movies, go bouldering, and play video games. As council member, I am usually in charge of many of the academic/research events and aid in planning for some social events!
JOANNA LIU
Hi everyone! I'm Joanna, a 4th year Biochemistry major from Corpus Christi, Texas. I'm interested in anything cancer and/or epigenetic related research. I currently mentor for Gene Networks, a FRI stream that focuses on ribonucleoprotein complexes. I'm also a transfer student in DS (applied to Dean's after my first semester at UT), so if you have any questions please let me know! In my free time, I love to draw, paint, and try new food places in Austin! Within the Council, I help out with basically anything that needs helpers. Connect with me if you have any questions or just want to talk :)
SANDY NGUYEN
Hi friends! I'm Sandy, third-year biology major from Cypress, Texas. I'm poking around in synthetic biology research, which currently entails engineering polymerases in the Ellington lab and caffeine-addicted E. coli in the Microbe Hackers FRI stream. In my nonexistent spare time, I enjoy playing the clarinet, hugging furry animals, baking, and wandering around green spaces.
ABBY ROLAND 
Hi! I'm Abby and I'm a fourth year biology major from Austin (but don't take that to mean I know how to navigate to a single place). I love epigenetics and I do research in the Kim Lab on stem cell differentiation. My hobbies include: reading, theater, trying to convince my friends to watch Survivor, going on 3am adventures to insomnia cookies, playing dnd, and baking. If you have any questions about DS, DS council, or DS council social cookie-brownies I'd be happy to answer them!
NIKHIL VINOD
Hello there! My name Nikhil and I am a junior biochemistry major on the premed track and am also pursuing a business minor. I am currently part of the Functional Genomics FRI lab where we  focus on analyzing the phenotypic effects of human histone genes in yeast. My hobbies include drawing, reading manga/watching anime, playing basketball, and a myriad of random hobbies I phase in and out of. I am from Houston, specifically the actual Houston part of Houston. I am always up to help out with anything so feel free to let me know, including the most random idea you might want to do something with.